Saxophone & Flute Instruction
Study  with  Arthur Barron
Professional Musician ♦ Recording Artist ♦ Music Educator
Tenor Saxophone and Flute
Private Lessons and Programs for Adults

Berklee College of Music and Conservatory educational methods
from one of South Florida's most experienced teachers

Training for Novice, Intermediate and Advanced Adult Students
● Technical Studies ● Tone & Embouchure Exercises ● Daily Practice Routines
● Sight Reading ● Music Theory ● Playing Chord Changes
● Learning Compositions ● Improvisation Techniques

Barron specializes in improvisation methods and techniques
Instruction designed for stress-free lessons for adults to work at own learning pace.
Music Styles
Jazz ● Classical ● Pop ● Rock ● Blues

Available in Greater Miami area for private lessons and  for group saxophone and flute lessons, clinics, master classes, workshops and performances with groups or school bands.
 Contact Arthur Barron at 305-794-2845 for a no obligation consultation
 
Credentials
TEACHING EXPERIENCE
 
Saxophone & Flute Instruction:  SoBe Music Institute, South Beach, FL
Saxophone Instruction:  Miami Dade College SCE, Kendall, FL
Jazz Improvisation Clinics:  Miami Dade College, Kendall, FL
Saxophone & Flute Instruction:  Music Workshop, North Miami, FL
Artist-In-Residence:  Arts for Learning Jazz in the Americas Program, Miami, FL
Saxophone & Flute Instruction:  Mars Music Learning Center, North Miami, FL
History of Jazz Course:  University of Miami SCE, Coral Gables, FL
History of Jazz Course:  Florida International University SCE, North Miami, FL
Jazz Improvisation Clinics:  Berklee College of Music, Boston, MA
 
CAREER HIGHLIGHTS

• Record of achievements as recording artist, bandleader, composer, arranger, producer and music instructor.
• Trained in music performance and music theory, and studied under world-renowned jazz musicians and educators.
• Professional music instructor, credentials include college level curriculum and private instruction.
• Artist-In-Residence for music workshop programs with Miami Dade County Public Schools.
• Received Honorarium from Miami Dade College for concert performances and clinics.
• Performed and recorded with internationally known jazz artists for over three decades, and
toured throughout United States, Europe and the Far East.
• Acclaimed CD recordings with major jazz record company and independent labels.
• Host of State of the Arts entertainment television program on Cable Tap TV (Miami).
• Radio commentator, interviewer and programmer on WDNA-FM (Miami), WMBM-AM (Miami Beach), KSAN-FM (San Francisco), KGKB-AM (Phoenix) and WERS-FM (Boston).
•  Concert Director for CTI Records All Star Band and Personal Manager for CTI recording artists Deodato, Airto Moreira and Flora Purim.
• Concert promoter and booking agent for jazz and rock productions.

 
EDUCATION
 
Bachelor of Liberal Studies:  Barry University, Miami Shores, FL
Performance Program:  Berklee College of Music, Boston, MA
Harmony and Composition Courses:  Berklee College of Music, Boston, MA
Music Theory For Performing Musicians:  Laney College, Oakland, CA
Theater Arts Program:  Emerson College, Boston, MA
Law School:  Suffolk University, Boston, MA
 
TRAINING

Saxophone & Flute:  Joe Viola, Director of Berklee College of Music Woodwind Department
Saxophone & Flute:  David Liebman, music educator and Grammy nominated jazz musician
Saxophone:  Joe Henderson, Grammy award winning jazz musician
Arranging:  Hilton Ruiz, Musical Director and Arranger for Tito Puente Jazz All Stars
Testimonials
When I moved from Argentina to Guatemala, I completely abandoned my tenor saxophone playing for over two years, which I still regret doing. But, when I relocated to Miami, I decided to resume studying and practicing, and was very fortunate to Arthur Barron through his website.
Arthur's way of teaching instantly reignite my passion for the instrument, which has now become part of my life again and my playing is continuously improving.  Lessons with Arthur has become an important part of my life, and I feel that I am continuously progressing. 
Arthur has the ability and flexibility to guide you through the basics like embouchure exercises, tone and sound quality and sight reading, to more advanced study on music theory and jazz improvisation. His constant feedback encourages you to keep going and improving.  Arthur is relatively strict and very straightforward in his feedback, so you will certainly know when you are doing well, and when you have lost focus and are screwing up. And, that makes the difference: constant, direct and constructive feedback. Arthur is a natural coach and mentor.
With his method and personalized help you will start improving and recognizing the difference in your sound. The more discipline and practice you put in, the more advanced you will become to where you find yourself playing jazz standards as well as classical etudes, which you did not remotely think that you were capable of playing before studying with Arthur.
 As an extra perk, you will also get to enjoy the great discussions about music, trips and books.  Studying with Arthur Barron is a genuine experience!  Martias Bravo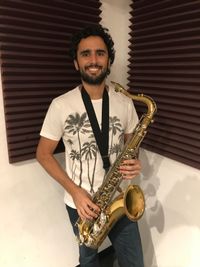 My name is Ryan Fleming, I am a high school student who has been playing alto saxophone for 3 years, and am a member of my high school's concert band. While I had some formal training when I first started playing, I was having trouble keeping up with other band members. I felt that I was playing at a skill level below my potential and letting my fellow band members down. I have taking lessons from Arthur Barron for about 6 months and my playing has really improved.  Arthur is an extremely talented musician who is very passionate about music. He is normally a fairly laid-back and humorous man, but is always focused on the music and helping you improve during a lesson. Arthur will eagerly commend you when you play well, but he will also be painfully blunt if you are playing at a lackluster level. He emphasizes the importance of daily practice and wants to work with a player who is willing to make this level of commitment to their music.  Before I began my lessons, I had a myriad of problems that literally crippled my playing.  Arthur gave me practical advice on taking care of my instrument and helped me develop the habit of practicing daily. I had issues with volume that caused me to fade out in the presence of another instrument. Now I can play strong when the song requires it, but I can also control my volume with relative, ever-improving ease. He has taught me to play beyond the middle register into the high octave. I can now play octaves I thought impossible before. With his help, I now play scales with ease and I am beginning to memorize them.  One of my most significant problems was poor counting. I often lost count and became disoriented during a song. Now, thanks to Arthur's teaching, I rarely lose count and easily keep with the flow of the song, even with players whose skill level is a higher than mine.  Beyond the knowledge and skill that Arthur has taught me, he has also helped me develop personal confidence and ignited my passion to become a really accomplished sax player.  I am so glad I have him as a teacher.
 Ryan Fleming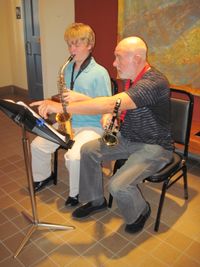 My name is Keenyn Moore, I am a 22 year old aspiring musician studying soprano saxophone and flute with Arthur Barron. I am having a blast being his student. Mr. Barron has taught me a great deal about the technical aspects of my instruments, but the main concentration of study is on the foundations of music theory and improving my sight reading ability that I have overlooked in the past.  Much time is also spent on analyzing and sight reading music charts, and learning how to play chord changes.. What makes Mr. Barron different from the common teacher is that he can see where I am trying to go with my playing, it's like he can hear what I am trying to play on the soprano and flute, and shows me how I can improve on what I am already doing.  My goal is to become a professional working musician, and he is teaching me the tools of the trade in order for me to accomplish my goal.  
Along with his teaching ability, Mr. Barron has an amazing amount of wisdom and insight that comes from all his experience in the music business. He has conveyed to me the importance of character and the persistence that it takes to become a successful musician.  Studying with him has not only improved my playing a great deal, but has also giving me a greater sense of direction and improved my perspective on music and life as a whole.  
Keenyn Moore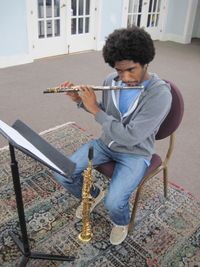 You are everything that I could ask for in a teacher. From my first lessons learning about music notation and scales, to learning how to play some pretty difficult charts that I never thought I would be able to play, my improvement and will to keep playing is because of you!  I'm always looking forward to my lessons with you because I know I'm going to learn something new to improve my skills and understand more about music. I'm playing at a level that I never thought I would ever reach. Your teaching skills are simply amazing! You are able to give an exercise at the beginning of my lesson that I don't even have one clue how to play, but by the end of the lesson I'm able to play it. You have honestly really helped me understand when I'm really confused about the music, and whatever my problem is you always know how to help me work on it! I appreciate you taking as much time with me as I needed, for being patient with me, for teaching me to the best of your abilities, for never doubting me, for pushing me, and for reminding me that I can do it. Not only has your teaching improved my playing but also my confidence in myself in playing music! As silly as it sounds, you've opened up the musician inside of me that I never knew was there. I recommend everyone who wants to play saxophone to learn with you, they truly won't regret it, there's no other better teacher out there, I'm sure they'll be as amazed with themselves as I am, and that they will be as thankful for your teaching as I am!  Alicia Chu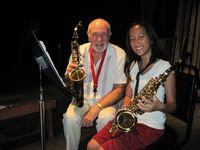 I have had the fortune to have Arthur Barron as my music teacher since 2002 when I decided to take up the alto saxophone at age 52 after I took an interest in the jazz genre. From beginning I knew that I was in competent hands with Arthur. His method of balancing music theory and study of performance created an environment in which I was able to move forward quickly and to attain the satisfaction of playing that would spur me on to keep going, even when progress seemed challenged. As an added bonus, he has exposed me to listening to a lot of different jazz artists, and I have even got to play with professional musicians in a number of performances that Arthur arranged; which greatly enhanced my understanding of what it takes to be a stage performer.
Arthur has patiently helped me to become a proficient sight reader. He emphasized reading notation in the ledger lines both above and below the staff, and pushing me to become more comfortable with the full range of my instrument, especially in the upper register. His lessons on theory, especially his teaching of the modes, allowed me to attain improvisation skills that I never thought I would have. Lots of time is given to chord and scale theory, having this knowledge makes encountering a complicated altered chord or difficult scale much less daunting.
Another skill learned with Arthur is being able to count time, which for me, is probably the most challenging aspect of my playing. With all the dotted, slurred and syncopated notes encountered in jazz, his perseverance in getting the timing right is essential for the performing musician. Between his emphasis on keeping good time and not allowing the student to ignore the dynamics of the tune, some really nice music can be produced.
Arthur has also taught me how to analyze a composition. By revealing the structure of a tune, the composer's musical ideas are more readily understood which makes playing of the melody easier and the solos more understandable, for both performer and audience. My thanks to Arthur for all the time and effort put into teaching me how to play the alto saxophone! 
Ken Kay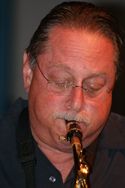 When I first started taking alto saxophone lessons with Arthur Barron, I barely knew how to hold the saxophone let alone play anything resembling coherent sound. Nevertheless, in the short amount of time that I have been studying with Arthur I have learned how to play a variety of major, pentatonic, and blues scales and have begun to learn how to improvise. I meet with Arthur about once a week and the time is not wasted. Every week it seems we simultaneously work on my timing, technique, sound, improvisation skills, and understanding of music theory. Every week I learn something new and can easily see the progress I am making under Arthur's guidance. Arthur has a great sense for when and how to challenge his students. He also seems to get you to play and advance to the best of your ability without overwhelming you or holding your hand. Another thing about Arthur is that he is genuinely eager to learn your interests and adapts his teaching to fit those interests and help you meet your goals. For example, I indicated I had an interest in blues and since then he has tailored several of our lessons to helping me learn the fundamentals necessary to understand and play the blues. Which leads me to my next point, Arthur possesses a tremendous amount of knowledge and experience as someone who has played and studied music all over the world. Our lessons are enriched by the fact that I am learning from someone who has so much experience and truly loves the craft. Above all else Arthur is a great teacher. If you are serious about learning the saxophone then you could not find a better teacher.
  Matthew Hernandez

I take jazz tenor sax lessons weekly with Arthur Barron. In most of our lessons, we start by working on technique, then we learn/play a tune and then we try improvising on the tune. Throughout the lesson, Arthur plays his sax alongside me. During technique development and playing tunes as written, I can hear Arthur's tone, articulation and phrasing and I can feel the way he keeps the time and plays jazz 8th and 16th notes. When we take turns improvising on tunes, I listen to Arthur's solos which give me ideas that I can try to incorporate into my playing.
The technique development portion of our lessons has varied greatly over the years. In the beginning I learned to play all 12 major, minor and dominant seventh scales and chords. Then I learned to play each scale starting on any note rather than just on the root. This helps with improvising over chord changes and led to an understanding of modes; the dorian minor was just the major scale starting on the second, the dominant/myxolidian was just the major scale starting on the fifth, the locrian was just the major scale starting on the seventh, etc. Now we are working on the II-V-I progression in all 12 keys and Arthur is teaching me to improvise on this progression at ever increasing tempos. Improvisation has been difficult for me, so Arthur suggested I write down licks that I like, learn to play them in time in one key and then learn to transpose them to all 12 keys. We are also working on melodic connections so there is a smooth flow to improvising over the chord changes. Learning about leading tones and looking ahead to see the next chord change while I am still playing the previous change are things I understand cognitively but I am having difficulty putting them into practice. Lately, we have started to do more sight reading and we are going back to the Rubank books to work on 16th notes and on different rhythms and phrasings.
When it comes to playing tunes, we start by looking at the key the tune is written in, then we look at the chord changes to see how they relate to each other and how they relate to the tonic, then we look at the whole notes as the parts of the melody that receive extra emphasis. Once we understand the basic structure and harmony of the tune, we play the head. Before we improvise on the tune, we analyze and then play the scales and chords involved. Often there are altered chords which I don't understand and we spend some time clearing those up. I learned the diminished scales this way and I became acquainted this way with #9, #11 and #13 chords and b9 and augmented chords. The more I learn the more I realize how much I don't know. Once we have reviewed all the scales and chords and have played them to get them under my fingers, we play the head a few more times and then we improvise. Keeping the time while playing the head and during improvisation solos are difficult for me which has led to many hours of practice with the metronome.
On a few occasions, Arthur has arranged for me and one of his other students to play with his band in concert live and to solo on a few of the tunes. This was frightening because I don't feel competent enough with my instrument to perform live for an audience. Nonetheless it was a good experience because it showed me what skills I need to develop to be able to perform live.  
Saul Gross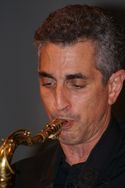 To be completely honest, I did not expect to enjoy the Art of Improvisation and Ideas clinic or the MDC Honors Jazz Band concert. Usually, when attending music events like this I end up being very bored and wishing I could leave early. However, I was pleasantly surprised to find that it was the direct opposite. I found myself wishing I could stay and listen longer and that the band would never need to stop playing. They performed at the end of the first Arts and Letters Day in the Beat Café on Miami Dade College Kendall Campus, and it had been a very exhausting day for me to say the least. I didn't really feel like going at all, but I'm so happy I did. It ended up being my favorite event for the entire Arts and Letters Day. The minute I walked in and the band started playing that beautiful, soft, moving melody, all of my stress just melted off me. I've never really been a fan of Jazz; actually, I've never listened to it at all. I know now what I've been missing. Every song they played was better than the last. Not only did they play but Arthur Barron introduced and explained each and every piece, breaking them down and exposing the raw notes in a miraculous way. The song that got to me the most though was called "Round Midnight". I don't know the name of the girl who was singing along with the band, but her voice was both beautiful and haunting. I can still hear it in my head, and it truly gives me chills. Listening to the band play with her singing, all of my troubles seemed so far away and every worry was gone. The jazz was therapeutic to say the least. Needless to say, I will definitely be downloading more jazz music and hopefully have more opportunities to see it live!  L. Thronton