Arthur Barron, jazz saxophonist, flutist, composer, bandleader, recording artist and music educator, is a seasoned musician with a sound of his own.  Influenced by both hard-bop and rhythm & blues, he is known for his passionate playing, powerful technique and eclectic flare for musical styles.  Barron takes pride in having developed his own musical vocabulary, he never stops being himself one hundred percent of the time. 
 As in the aptly titled track The Journey on his Soul Messenger CD, Barron's music career has been quite a journey.  Born and raised in Boston, Massachusetts, Barron received his music training at Berklee College of Music under Joe Viola, Director of Berklee's Woodwind Department, and went on to study with Joe Henderson and Dave Liebman along with mentoring from Pharaoh Sanders. After leaving Boston, Barron traveled to San Francisco where he made his professional stage debut in with the Eddie Henderson & Julian Priester Band at the famed Keystone Korner jazz club in North Beach.  Following his stint in San Francisco, he relocated first to London in the UK, then to Barcelona and the village of Port Lligat in Spain, woodshedding in a villa next to surrealistic painter Salvador Dali, frequently playing for Dali and his wife Gala.  Barron returned to the States to live in New York City, where he became an active member in the East Village avant garde movement during height of Loft Jazz era, and performing on the the New York club scene extensively with a funk-fusion band led by guitarist Alfonia Tims as well as with his own jazz quintet.   
During this time Barron recorded his first solo album Groove Speed with Magic Music Records, a collection of original jazz fusion material.  He also started appearing as a sideman with pianist Hilton Ruiz, and became heavily influenced by Latin music when he was invited to sit-in with the band of salsa legend Hector Lavoe.  
After spending eight years in New York, Barron moved to Miami where he opened the Tropics International nightclub on Ocean Drive in South Beach, voted Best Jazz Club in South Florida, performing regularly at the venue.  He relocated again in to live in Hong Kong where he led a house band at The Jazz Club in the Lan Kwai Fong entertainment district.  Following his tenure in Hong Kong, Barron returned to Miami where he opened Rose's nightclub in South Beach, voted both Best Jazz and Rock Club in South Florida, site of his live Footprints recording with Hilton Ruiz.  Although Miami is his home base, Barron continues to travel, most recently performing at Les Saisons Hotel in Casablanca, Morocco.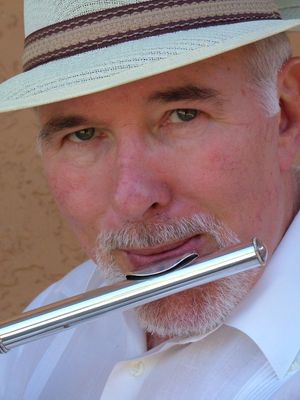 Barron has appeared with an array of stellar Jazz and Latin jazz artists in a career that has spanned over three decades of eventful music, he has performed either live or in the studio with Dr. Lonnie Smith, Dave Liebman, Melton Mustafa, Mac Gollehon, Tim Horner, Steven Bernstein, Vernon Reid, Melvin Gibbs, Jerome Harris, Steve Neil, Delmar Brown, Mike Gerber, Jim Gasior, Kiki Sanchez, Nicole Yarling, John Yarling, Jonathan Joseph, Tim Horner, Randy Bernsen, Othello Molineaux, Abel Pabon, Hilton Ruiz, Jerry Gonzalez, Mario Rivera, Phoenix Rivera, Papo Vasquez, Steve Berrios, Oscar Salas, Archie Pena, Andrea Brachfeld, Gabriel Vivas, Nestor Torres, Carlos 'Patato' Valdez and Mongo Santamaria, among many others.  
Barron is currently involved in a new recording project under the title of The Labyrinth, all original compositions co-written by Barron and legendary soprano saxophonist Dave Liebman, works based on Barron's experiences in Port Lligat, Spain and in Villa De Leyva, Bogota, South America.   His main recordings to date have been The Miami Jazz Project on ZoHo Music label, Afro Blue Band Impressions on Milestone Records (Grammy nominated), and Dragon Rose Records releases Late Nite Time, From The Archives, Footprints and Soul Messenger CD's.  
Barron has taught jazz courses at the University of Miami and Florida International University; Artist-In-Residence with Arts For Learning Jazz in the Americas program conducting music workshops for Miami-Dade County Public Middle and High Schools; taught Art of Improvisation clinics and saxophone lessons at Miami Dade College Kendall Campus, and received an Honorarium for performances with the MDC Honors Jazz Band. 
Arthur Barron is available for private tenor saxophone and flute lessons, he specializes in teaching the Art of Improvisation.  See Music Instruction.
In addition to his music career, Barron is a master Tai Chi instructor and accomplished visual artist.